Once again, Occoneechee members and friends headed down for 3 days of golf in Myrtle Beach. This year we had 28 player for three rounds of golf. We played Sandpiper Bay, The Pearl and Magnolia Green. Despite the chilly weather, a great time was had. A few pictures from this years event.
We started out at Sand Piper Bay Resort. 27 hole course that was in great shape. A bit windy that day but still lots of fun.
Friday we played the Pearl which is a huge course that offer lots of great views. We also played a 9 hole Captain's Choice. Heck, what else do we have to do?
Cold morning in Wilmington for the last round at Magnolia Green. Luckily it warmed up quickly and the skies were crystal blue.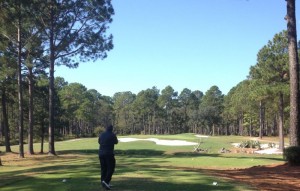 Mike B, hoping he chose the right stick today!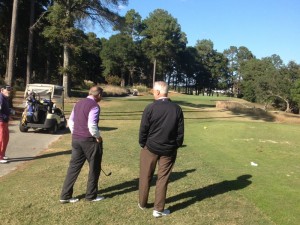 Meeting of the minds during the Captain's Choice.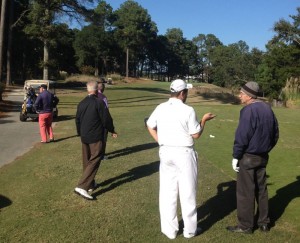 Apparently, more opinions were needed.